By Cristal Collier, regional director of business development
On Nov. 5, 2020, staff members, residents and families joined together at Villa Manor Care Center in Lakewood, Colorado, to honor those lives that were lost during COVID-19 this spring.
On this beautiful fall day, associates at Villa Manor looked back on their darkest days, beginning in May, when they had their first positive resident. The staff at Villa fought so hard to keep the virus out of their facility, and when the virus made its way into the facility, the staff continued the hard fight.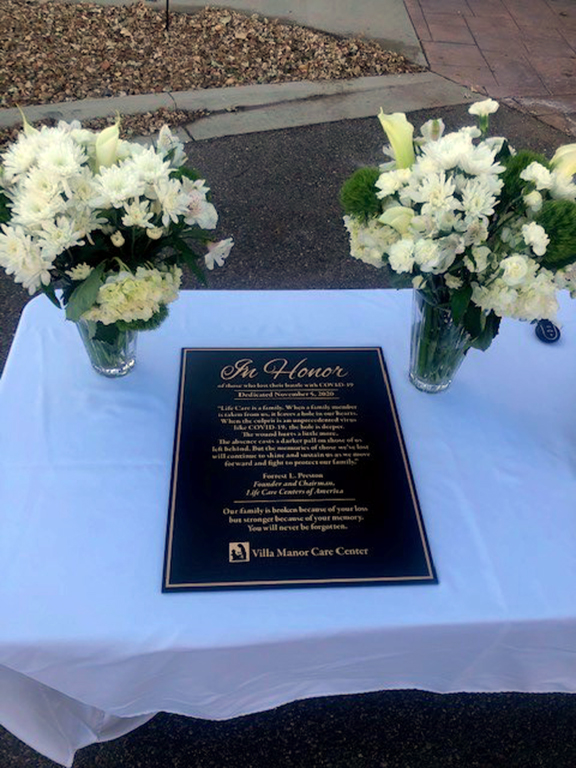 Eddie Kennedy, admissions director, shared details during the memorial service of what the staff did to support each other and residents in the facility during those days.
Steve DeBelle, regional vice president of Life Care's Rocky's Region, shared, "On May 2, 2020, the staff at Villa repeated those dreadful words, 'We have COVID-positive residents and staff members.' From that moment on, the next 30 days would be something none of us have ever experienced in our lifetime. This was when Champions were discovered. The staff answered the calling without regard to the potential risk to their own health and health of their families. Staff worked countless hours each day to care for the residents here at Villa Manor, helping in all departments, and many of you worked weeks without a day of rest. You are the unsung heroes and champions of Villa Manor. The residents here are your main priority. You laugh with them, you cry with them, and most importantly, you love them."
A chaplain from a local hospice provided a prayer for healing after the loss of a loved one. He then read the names of those lost, and staff lifted a balloon up with each name.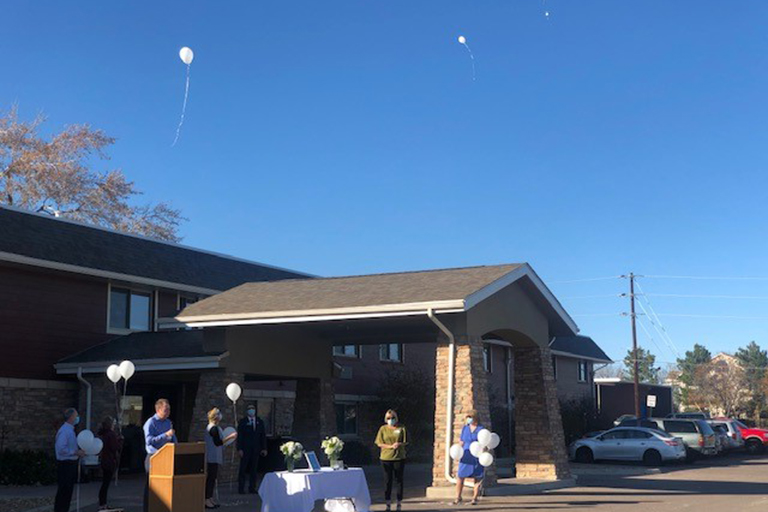 Sara Dent, executive director, addressed how the loss of those they loved will be forever in their hearts. She then presented a memorial plaque that has been placed in an area for anyone to visit and remember those who we lost during COVID-19.