As our facilities across the country continue to bravely face the challenges of our COVID-19 pandemic world, more and more stories of our healthcare heroes emerge.
To all of our associates working hard to keep our residents safe, we thank you for your courage and love.
Here are more stories of how our associates are rising to the challenge.
Kathryn Foxx, admissions and marketing director at Life Care Center of Westlake, Ohio, nominated her director of nursing, Jason Havas. "Jason has been an absolute superhero for us during these trying times," Kathryn said. "He truly cares about the well-being of our facility and will do anything to make sure that our residents are taken care of. He has been a great support to the nursing staff by working as a floor nurse or a nursing aide when there are openings in the schedule. Not only does he help out in the nursing department, but he is willing to help support every department if needed. Jason always has a positive attitude and does his best to spread laughs and positivity to our staff and residents."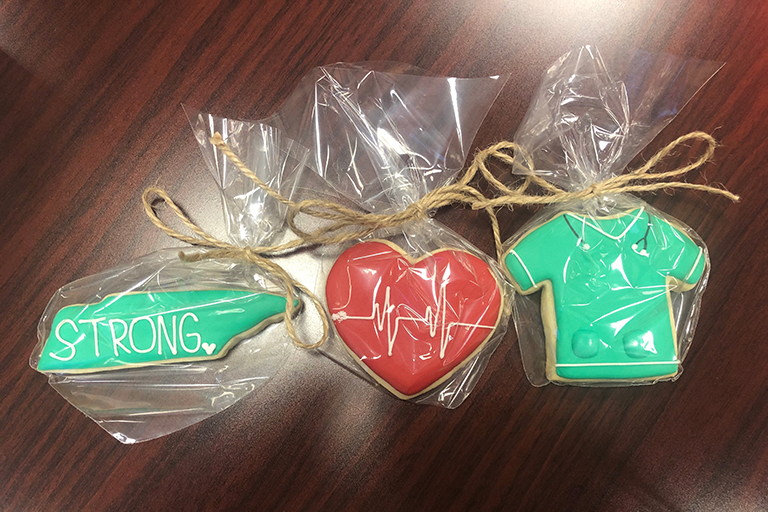 Jill Roach, director of corporate collections, and her team realized how much the corporate operations and clinical services departments were doing to support the facilities during the pandemic. They sent cookies with encouraging messages to those two departments.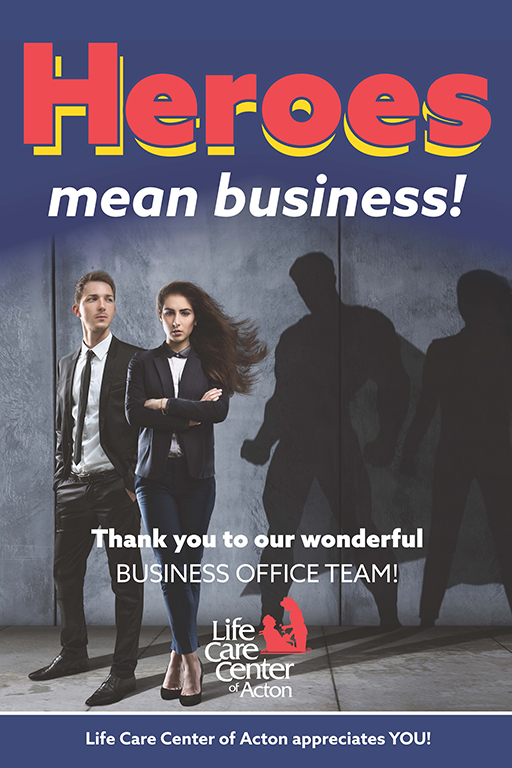 David Coughlin, business development and admissions director at Life Care Center of Acton, Massachusetts, thought his fellow associates could use a little extra encouragement and recognition. He contacted the public relations department to create thank-you flyers for many departments and even single roles at the facility with unique, cute tag lines. For example, the food services team's flyer says, "Our HEROES are serving it up!" and the maintenance team's says, "Your heroes are here to fix it!" The flyers now cover a good portion of the walls at the facility as a constant reminder to associates of how valuable they are.
The community around Mitchell Manor in Mitchell, Indiana, recently showed their appreciation for the hard work that associates were putting into their facility. Mandy Robbins and Denise Barnett organized a Stuff an SUV event on April 17 to provide snacks and sodas for associates.
"My daughter had worked in long-term care nursing facilities previously and knows the stress that every staff member goes through, let alone when dealing with a situation like the COVID-19 pandemic," said Mandy. "We want to show them all the support we can."
Kathi Hignite-Owens, executive director, shared, "Mitchell Manor is eternally grateful to the community for surrounding us with love during this difficult time. Many have donated meals for staff; sent cards, letters and personal messages; shared from their own stock of personal protective equipment; placed signs in the yard and offered prayers."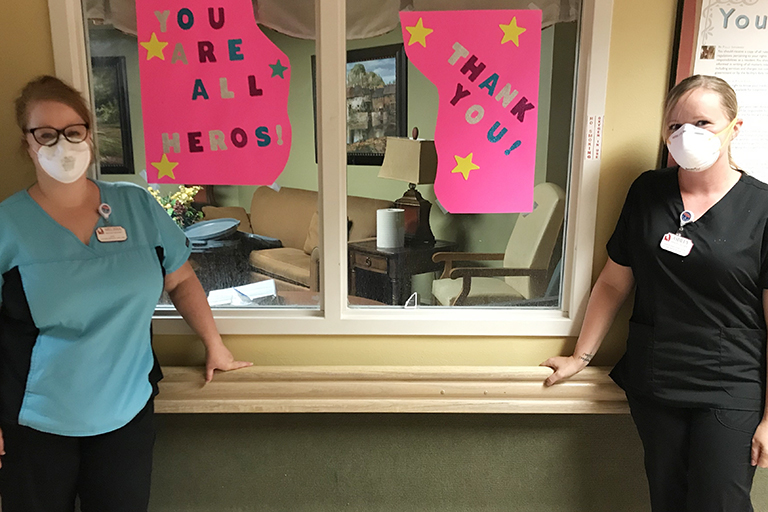 Bethany Sattovia, regional rehab director for the Missouri Region, shared how awesome the rehabilitation leaders are at Life Care Center of Saint Louis, Missouri: Melissa Georgeff (director of rehab services) and Ashley Oliver (assistant director of rehab).
"During the COVID-19 pandemic, Melissa was a leading force in not only treating the patients as an occupational therapist but working where she was needed. Melissa and her staff began working shifts as CNAs to assist with nursing care. There were times the phone rang while Melissa was home with her family. Neither she nor her team hesitated to go in and do what was needed for the residents to have the care they deserved. Eventually, Melissa was diagnosed with COVID-19 and had to take some time off to recover. Even during her battle with COVID-19, her main concern was her team and the residents."
Bethany continued, "During the time when Melissa was off, Ashley stepped up to carry on leading the rehab team. Ashley worked with Sean Buckley, executive director, to establish a consistent schedule for the rehab staff to continue working wherever there was a need, to ensure the residents were always taken care of, no matter the time of day. Life Care Center of Saint Louis is a four-story building, so there were many patients, duties, long hours and sacrifices that were made. During this time, Ashley remained poised, calm and collected. She worked endless hours alongside the rehab staff, CNAs and nurses to provide Whatever It Takes And Then Some."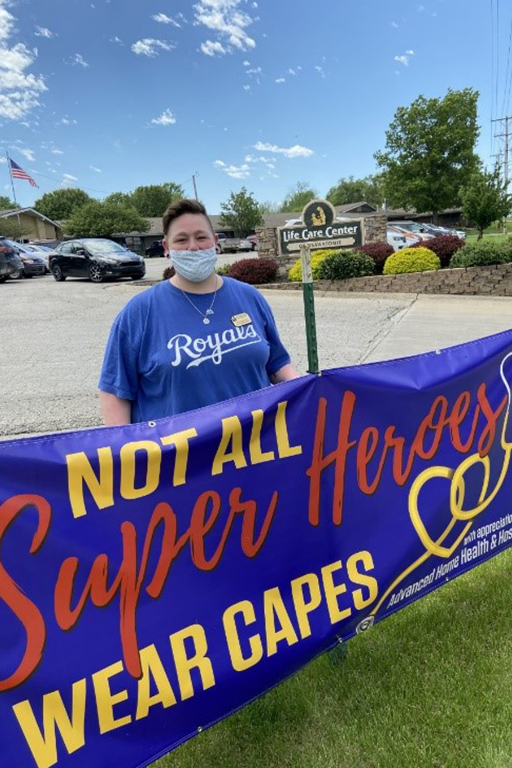 Jody Smith, staffing coordinator at Life Care Center of Osawatomie, Kansas, shared what makes CNA Melissa "Missy" Keele a hero: "Missy has only been here for five months and has quickly proven herself to be an exceptional caregiver and teammate," Smith said.
Amiee Seck, executive director, agreed, adding, "Missy is one of our most reliable and courteous CNAs. I enjoy seeing her interact with our residents on a daily basis."
When asked about what it's like to work at the facility, Missy shared her personal mission for patient care: "When I come in every day, I make sure to always have a smile on my face, leave my own problems at the door and always treat my residents like they're my own family. My goal is to make as many residents as possible smile and have a fantastic day. I've had several jobs, but none of them were as rewarding, and none of them felt this much like home."
Tina Brouillet, Northeast Division director of rehab, nominated Kim Nelson, director of rehab services at The Highlands in Fitchburg, Massachusetts.
"During the time of COVID-19, Kim did not show fear; she demonstrated resilience," Tina said. "She studied the information and used her resources wisely, including her regional team. She implemented a cardio pulmonary treatment protocol and prone positioning for residents who were positive with COVID-19. She then educated and competencied her team to ensure they were all skilled and comfortable to care for the patients. During this time, she comforted her staff's fears and ensured they were heard. The rehab team understood the importance for rehab treatment and ensured patients will not decline. The team rallied and all reported to work."
Tina continued, "Kim's regional rehab director, Aimee Murray-Smith, commended her for using her passion and knowledge to host educational webinars for the Northeast Division to assist our overall care delivery therapist to therapist. She continues to lead with the expectation that no best practice is to be sacrificed. She did this all while they supported the nursing team and staffing needs. Kim leads with passion and commitment, and her team follows her lead."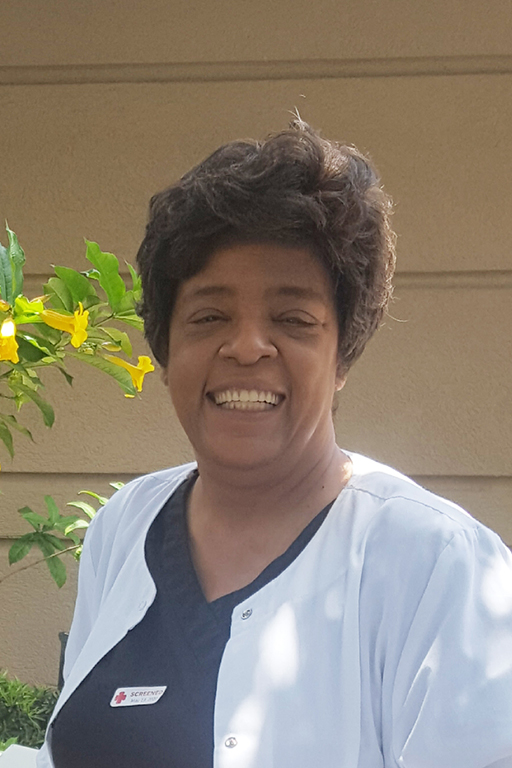 Jennifer Baker, marketing director at Life Care Center of Orlando, Florida, nominated one of her facility's nurses, Marilyn Edmonds.
"Marilyn's knowledge and compassion for our residents beams Whatever It Takes And Then Some," Jennifer shared. "She treats both her coworkers and residents as extended family and takes pride in building relationships not only with her residents but also their families. Marilyn is always willing to go the extra mile to put a smile on her residents' faces by assisting with a phone call to their loved ones or helping decorate their rooms. Whenever I visit the community, she is always welcoming with a big smile and the first to ask if she can assist with a new resident. Thank you, Marilyn, for everything you do to assist us at Life Care Center of Orlando."