Heidi Pino, Life Care Public Relations
Halloween 2020 was a little different at Life Care facilities this year, but it was no less fun. Across the country, associates made sure the holiday remained a favorite treat!
Several facilities took a whole week to celebrate, making their own Spirit Weeks a fun time for residents and associates alike with different themes each day.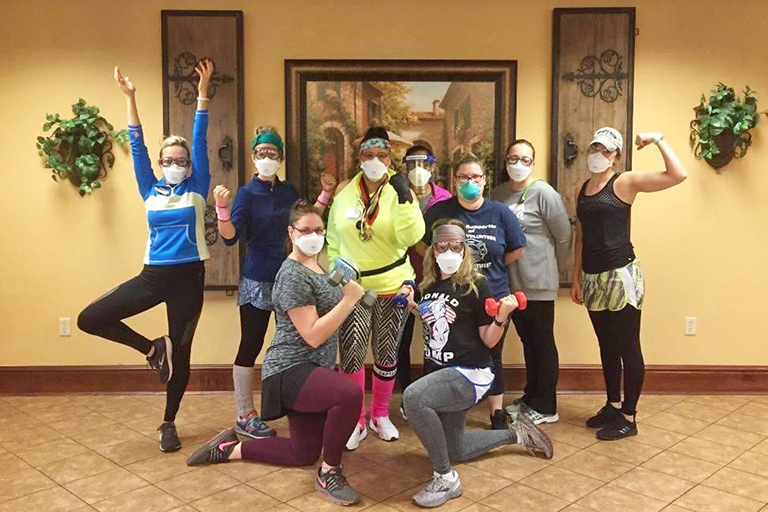 Life Care Center of Cape Girardeau, Missouri, was one of these buildings. Monday was Motivational or 'Merica Day, while Tuesday was Tacky or Tie-dye Day. Wednesday was Workout Day, and Thursday was Teamwork Thursday, when residents and associates wore their favorite team jerseys. On Fun Friday, associates dressed up in costumes and paraded through the hallways so residents could see their fun outfits, and residents played their bingo game with candy corns to cover their spots.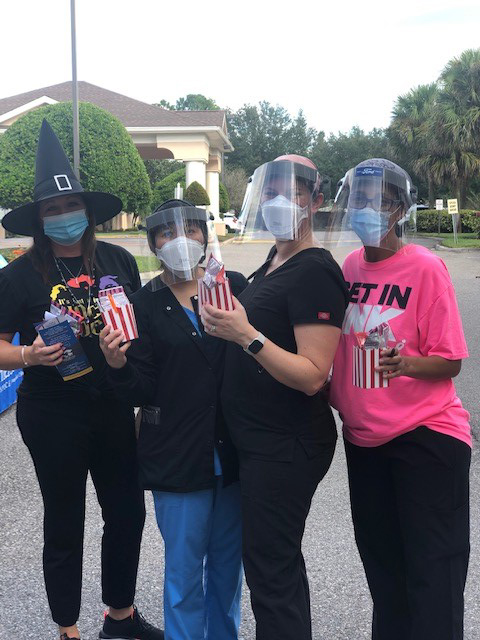 Life Care Center of Winter Haven, Florida, also celebrated Halloweek and dressed up in different themes each day. Monday was Monster Monday, Tuesday was Troll Tuesday and on Witch Wednesday the building hosted a PINK Trunk or Treat for associates where they were encouraged to wear pink in support of Breast Cancer Awareness Month. Thursday was Throwback Thursday, and on Friday, several departments presented decorated pumpkins for a pumpkin decorating contest, and residents voted. Associates could also participate in a costume contest and parade.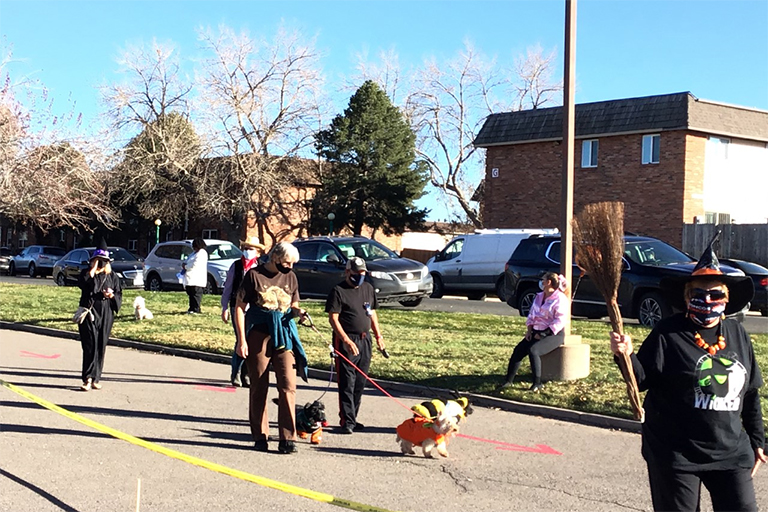 Costume parades were popular at many buildings, in fact. Hallmark Nursing Center in Denver held its parade outdoors, socially distanced and with masks on, and included residents, associates and even community members with a caution barrier between the residents and community members. "We invited residents' families to participate and provided trick-or-treat bags at the end of the parade that were sent on a slide to allow no contact made during the event," said Andrea Scorpio, recreation director. "Even though we couldn't see the smiles on the residents' faces, you could see and hear the joy and laughter this brought."
Associates at Life Care Center of the North Shore in Lynn, Massachusetts, dressed up and did a parade through the building while passing out candy to the residents. At the end of the parade, residents voted on their favorite costume.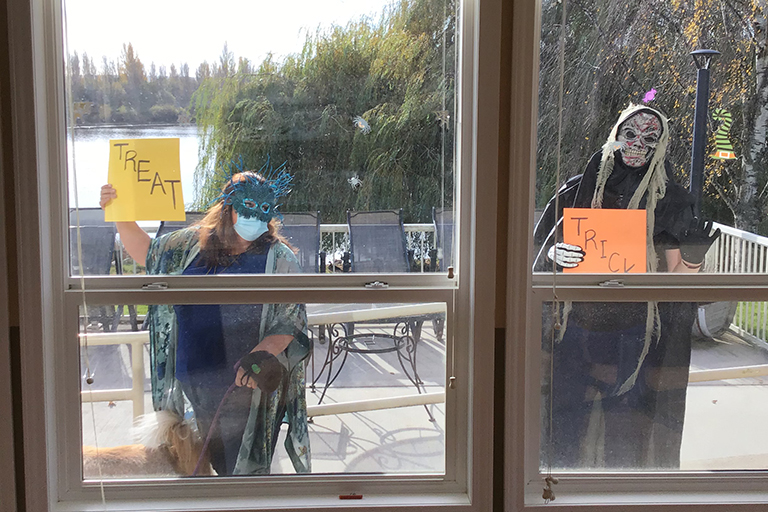 Families, including residents' and associates' children and grandchildren, dressed up and walked around the building at Life Care Center of Port Townsend, Washington, and at Life Care Center of Wilbraham, Massachusetts, as well. The latter included another special Halloween treat – a Halloween Tree contest in which various departments competed to decorate trees with different themes. The children voted on their favorites and chose "The Nightmare Before Christmas" tree decorated by the Hampden Gardens nursing team.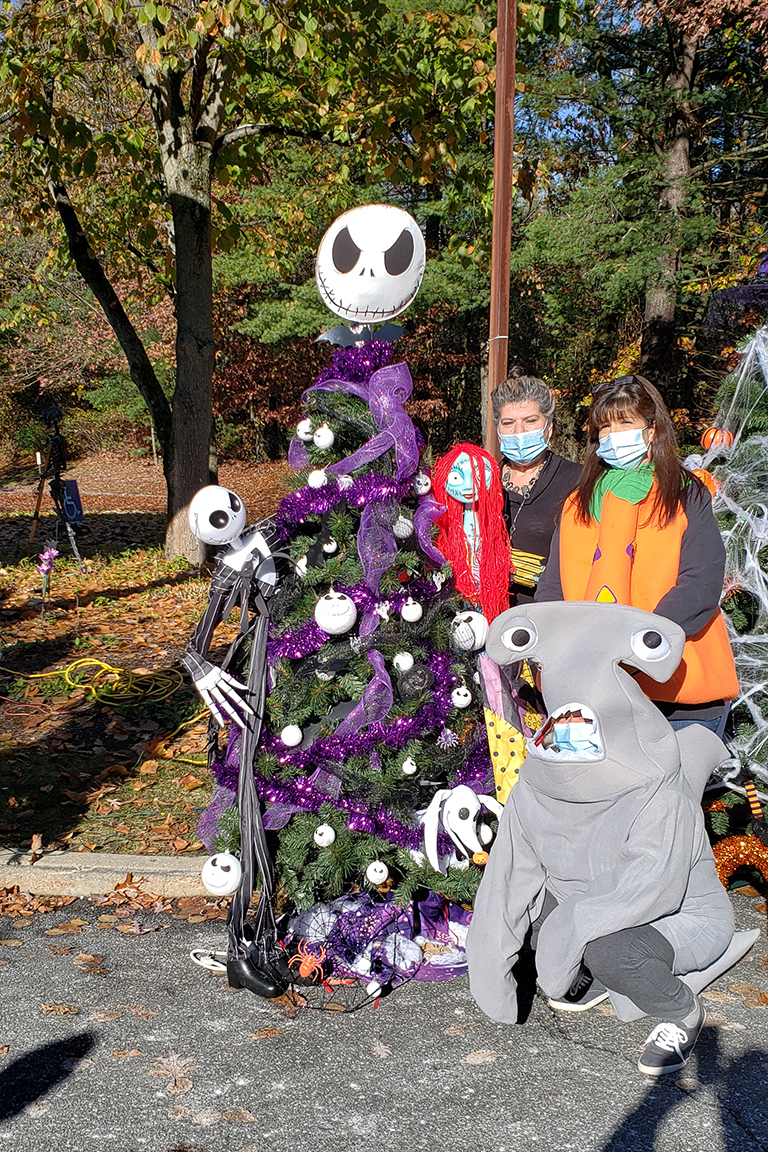 Residents got dressed up for their own parade at Life Care Center of Punta Gorda, Florida. One resident in particular was so excited to wear a sparkly dress, a pair of high heels and a blonde wig so she could go as Marilyn Monroe "because she was glamorous," said Victoria Naekel, activity director. "She was so happy and said that she felt so beautiful!"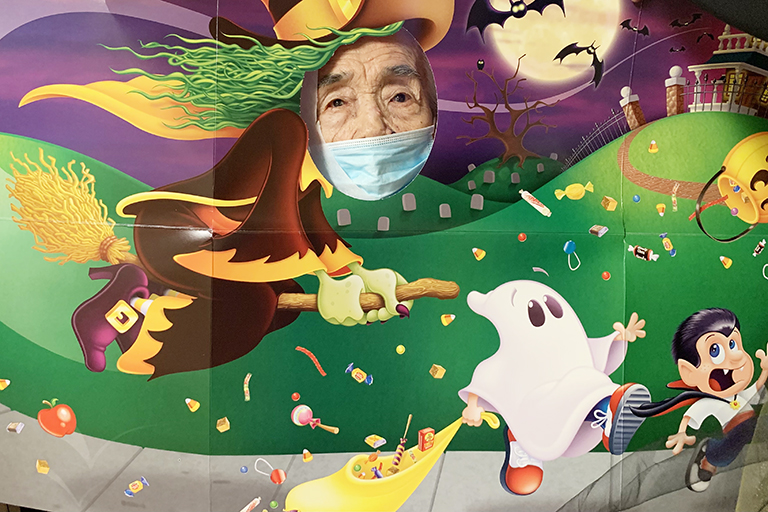 At Life Care Center of Sierra Vista, Arizona, residents dressed up and took photos with a spooky picture board in front of their rooms, with staff sanitizing the board after each resident. Then residents enjoyed treat bags delivered to their rooms and a "Ghostbuster" marathon.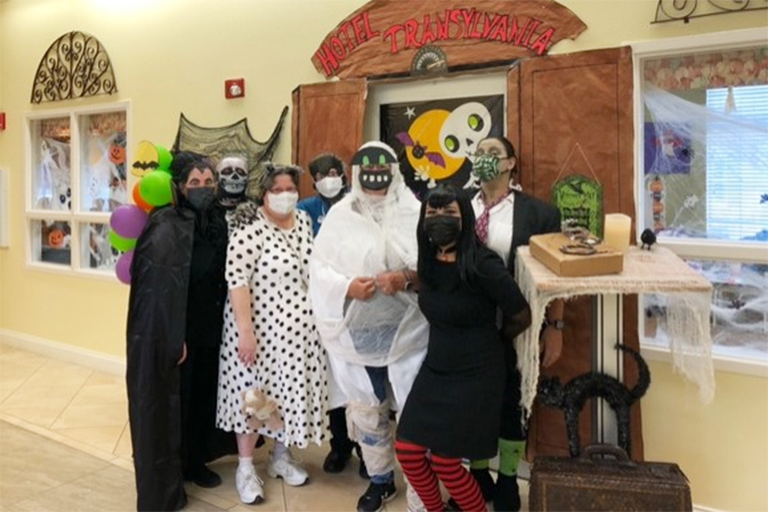 Life Care Center of New Port Richey, Florida, held a hallway party and a Monster Mash parade, then added a cake walk.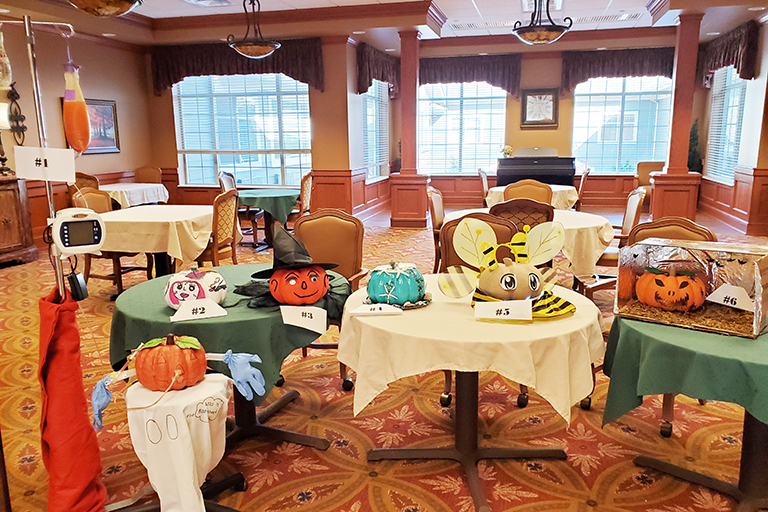 Staff members at Life Care Center of South Hill in Puyallup, Washington, took part in an easy scavenger-hunt style puzzle. They received a clue, which led to another clue, which led to another clue, until the final clue led to the prize of bags of candy. Each department also received an identical paper mache pumpkin 10 days before Halloween and designed them as part of a contest.
Pumpkin decorating was easily the most popular Halloween activity among Life Care facilities. Life Care Center of Leominster, Massachusetts, replaced its traditional Halloween Trail community event with associates decorating pumpkins. Fourteen fabulous pumpkin designs were submitted, with Sam Hutt from rehab winning first place for her scary Pumpkin in a Box design. Dee Dellacruz from dietary won second place for her Pumpkin Patch scene, and Nikki Mulaney, MDS coordinator, took third place for her Island Getaway creation. "All the pumpkins were colorful and creative," said Dianne Gallant, activity director.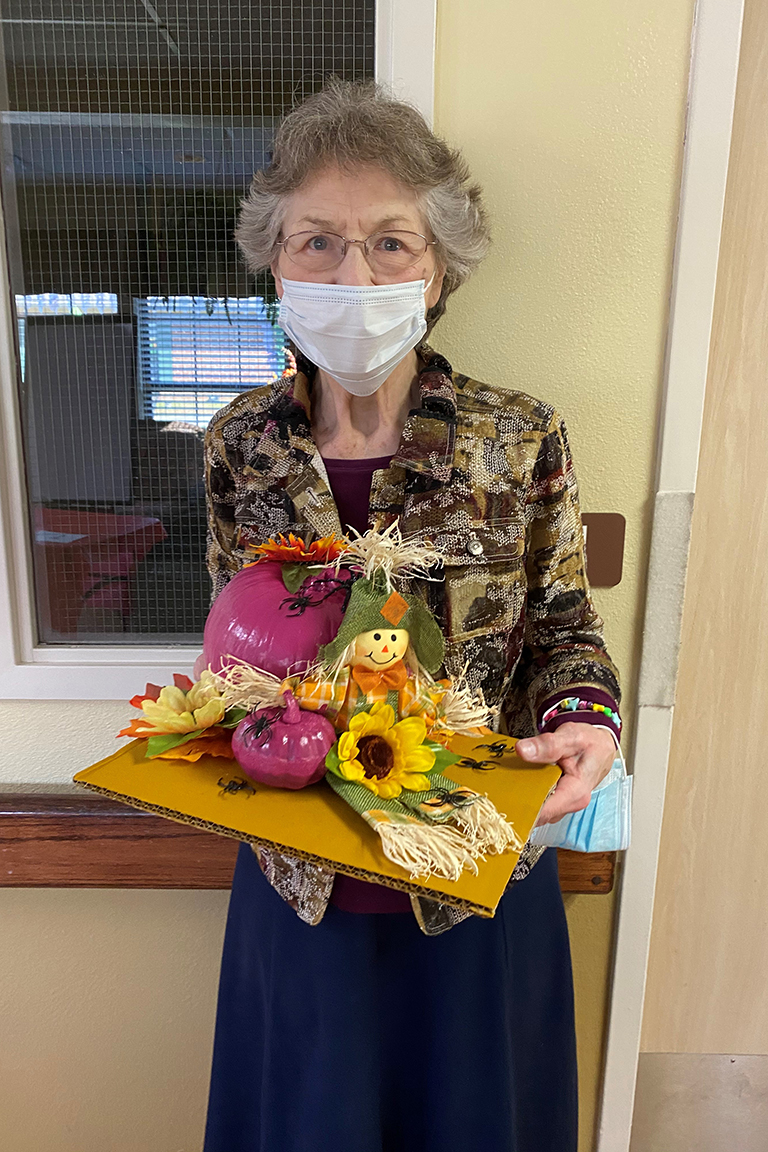 The Heritage Center in Morristown, Tennessee, had residents decorate the pumpkins, and 20 residents took on the challenge. "We kept names of the residents who decorated the pumpkins a secret," said Victoria Bowen, activity director. "It was great seeing the staff trying to guess which resident decorated which pumpkin. Afterward, we tallied up the winners and displayed the pumpkins for the staff and residents to see. The residents who won got a special ice cream treat."
At Life Care Center of Greeley, Colorado, even though residents were having to stay in their rooms, they still got to enjoy the facility's pumpkin-decorating contest. Associates decorated the pumpkins, and Roxanne Martinez, activity director, shared photos with the residents so they could judge them from the safety of their rooms. The minion pumpkin took first place, and the residents received bags of candy.
At Life Care Center of Hixson, Tennessee, associates and residents designed trick-or-treating bags and enjoyed viewing the creative artwork, while the decorations at Life Care Center of Attleboro, Massachusetts, took on a unique flavor for 2020. Residents there decorating masks for pumpkins and had a contest on each unit.
While this year has been spooky, associates and residents around the country make sure to keep the fun going.