During the coronavirus pandemic, Life Care associates around the country have been stepping up to the plate and proving the real heart of healthcare workers.
We'd like to take a little time to honor some of our healthcare heroes.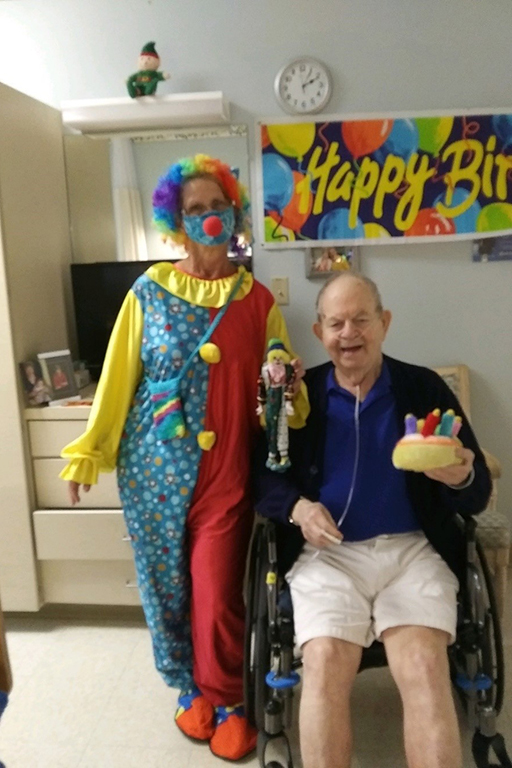 Mary Tabacco, rehab tech at Life Care Center of Palm Bay, Florida
Mary recently stepped up to make resident Arthur Urrows' 93rd birthday special in spite of the COVID-19 pandemic. She dressed up in her clown costume and decorated Arthur's room with a birthday banner to wish him a happy birthday. She even decorated her face mask for the occasion.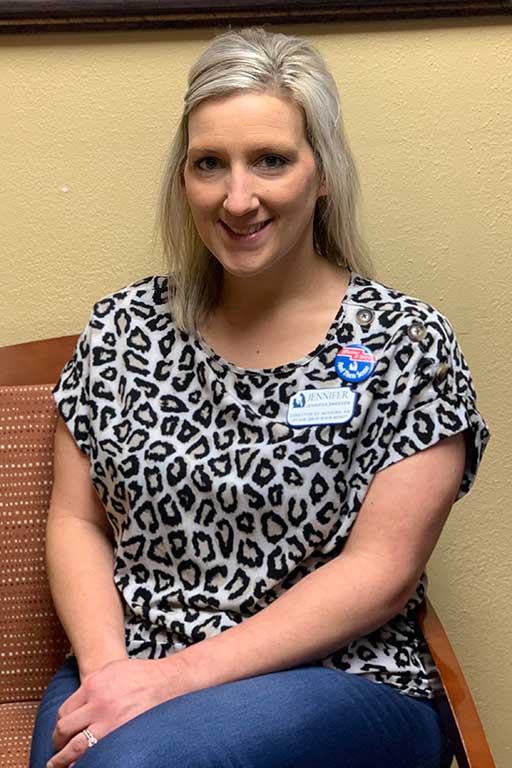 Jennifer Breeden, director of nursing at Life Care Center of New Market, Virginia
Jordan Atwood, accounting clerk, shared about Jennifer: "This nurse is so much more than just a nurse. While the world seems to be falling apart around us, she is the glue that holds all of us together. She goes out of her way to make sure all of her team is happy, healthy and feels important. Her residents mean the world to her, and she knows each and every one of them.
"If someone needs something and she is available, she jumps right in and takes care of the job. She has held different positions in the facility: floor licensed practical nurse, unit care coordinator, MDS coordinator, assistant director of nursing and director of nursing. She managed to work fulltime, still caring for her residents and team, and go back to school for her RN. Jennifer, you are so appreciated, and we cannot thank you enough for all you do!"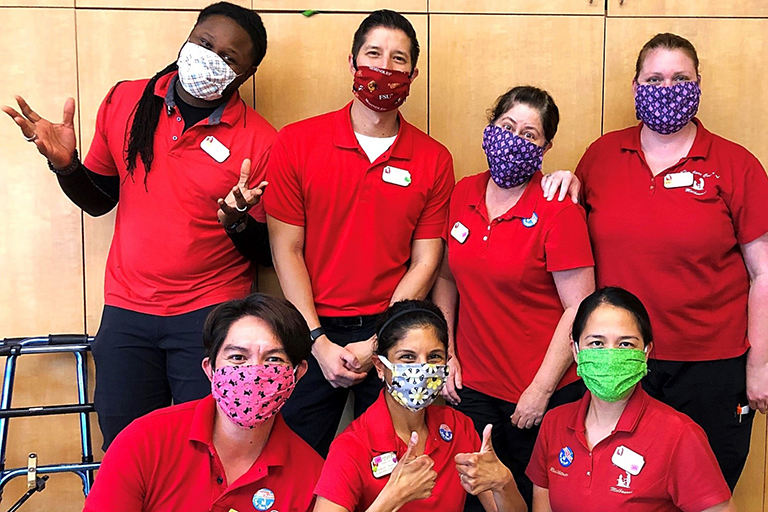 The rehab team at Life Care Center of Melbourne, Florida
The rehab team at Life Care Center of Melbourne has been using their masks to showcase their personality.
"Each mask is an expression of cheerfulness, doing their best to keep the residents' spirits up during this time," said Tammy Whitehead, regional rehab director. "You can see them smiling for the picture under their masks, and the residents see the same thing when they enter the residents' rooms."
Nicole Quinn, certified nursing assistant at Life Care Center of Plymouth, Massachusetts.
Nicole is a college senior and a member of the University of Massachusetts Dartmouth women's lacrosse team. She works on the dementia unit and has been working more hours now that classes have gone online and sports have been cancelled. She is graduating this spring with a degree in biology and pre-med.
Nicole shared a bit about her experience in an interview with The Enterprise, the local newspaper, published on April 14. "This recent time has seen some incredible changes at my work because of what we are facing," Nicole said in the interview. "But it hasn't changed me from wanting a career in the medical field. What I've seen has just strengthened my desire to want to help people."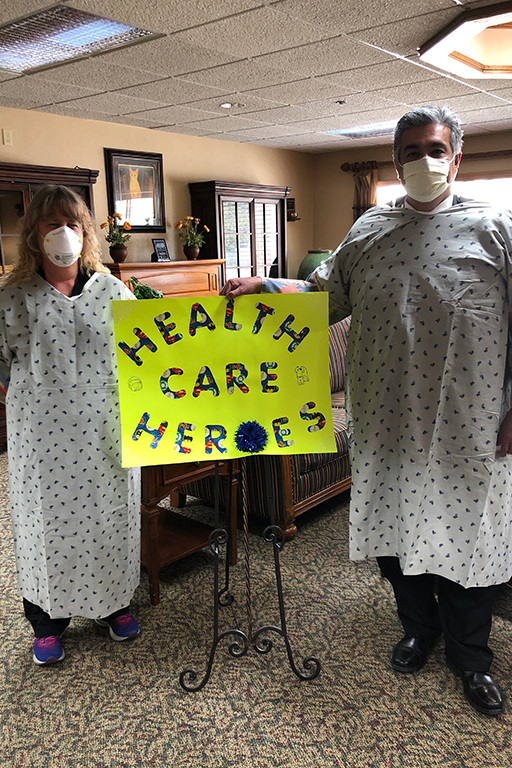 Jennifer Finnin, director of rehab services at Garden Terrace Alzheimer's Center of Excellence in Aurora, Colorado
Jennifer made personal protective equipment gowns for associates at fellow Life Care facility Columbine Manor Care Center in Salida, Colorado.
Garden Terrace associates also donated the sheets for the material.
Tina Pisani, assistant rehab services director at Life Care Center of Merrimack Valley in in North Billerica, Massachusetts
When the facility got its first cases of COVID-19, Tina didn't shy away from what needed to be done.
"She took a proactive approach and encouraged her therapy team to familiarize themselves with prone positioning protocols and strategies to help our patients in their greatest time of need," shared Aimee Murray-Smith, regional rehab director in training. "Tina also educated therapists via Zoom from across the Northeast Division on what the prone positioning program is and how it works. Not only is she looking out for her residents – she is doing anything and everything she can to protect and support her fellow associates. She's not afraid to take the extra shift, work the floor or go out of her way to find the equipment needed to support her Life Care family. Tina is kind, compassionate, selfless, hard-working and willing to put others' needs before her own. That is why Tina is truly a healthcare hero in my book."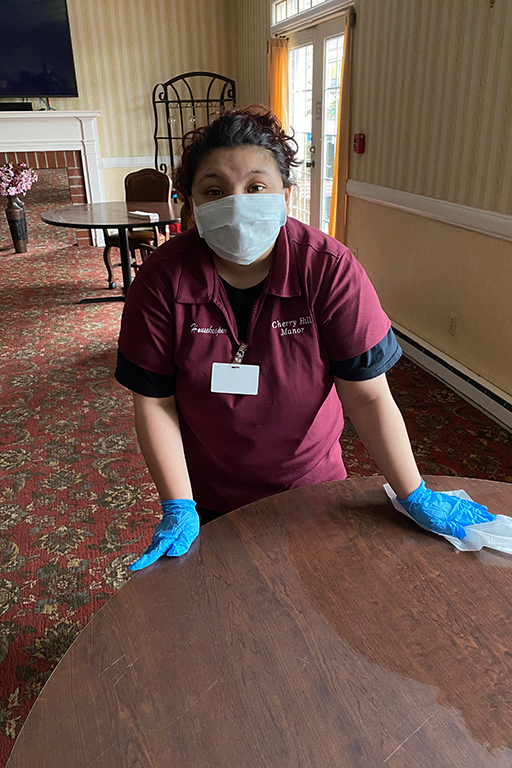 Cassiana Fuller, housekeeper at Cherry Hill Manor Nursing and Rehab Center in Johnston, Rhode Island
Even though Cassiana has a developmental disability, she proved her bravery by starting a job in housekeeping at Cherry Hill Manor just as the coronavirus started to spread in Rhode Island. She has trained in how to clean high-contact areas, such as tables, door handles and elevator buttons. She also does laundry.
"I love that I can help people and be a part of the team," Cassiana said.
In an interview with the Johnston Sun Rise newspaper published April 24, Cassiana's supervisor, Tara Brosnan, shared, "Cassie was hired directly when the whole thing hit. She went to our orientation when [the state mandated] no visitors at nursing homes, and she said, 'All right, I'm going to go to orientation. Here we go.'"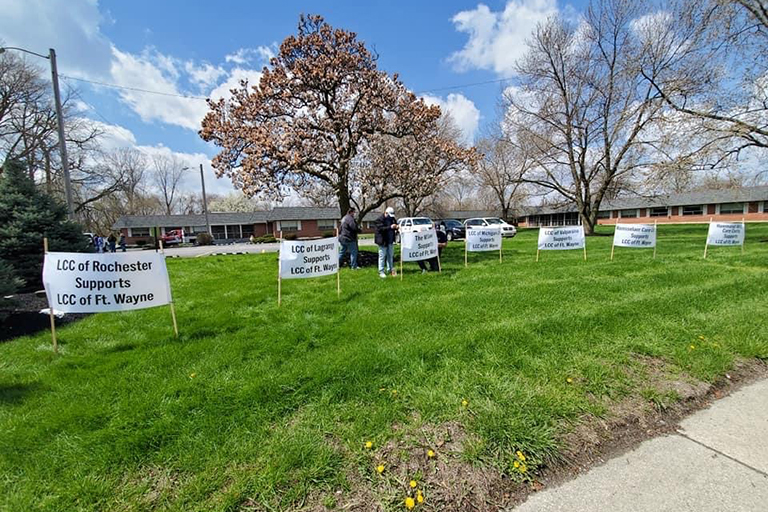 Associates from Indiana Life Care facilities
Associates from several Life Care facilities in the area rallied to support Life Care Center of Fort Wayne, Indiana, when the facility began dealing with COVID-19.
Life Care Center of Rochester, Life Care Center of LaGrange, Life Care Center of The Willows, Life Care Center of Valparaiso, Life Care Center of Michigan City, Rensselaer Care Center and Hammond-Whiting Care Center all set up signs outside the building to show their support of their teammates.