Heidi Pino, Life Care Public Relations
After a year in which celebrations were few and far between, Life Care facilities around the country were more than ready to bring on the fun during National Skilled Nursing Care Week, May 9 – 15, 2021.
We shared some of the ways our teams captured this year's national theme, Together Through the Seasons, in our June 1 blog, but there were so many other creative themes and ways residents and associates recognized the week. Here are some of them.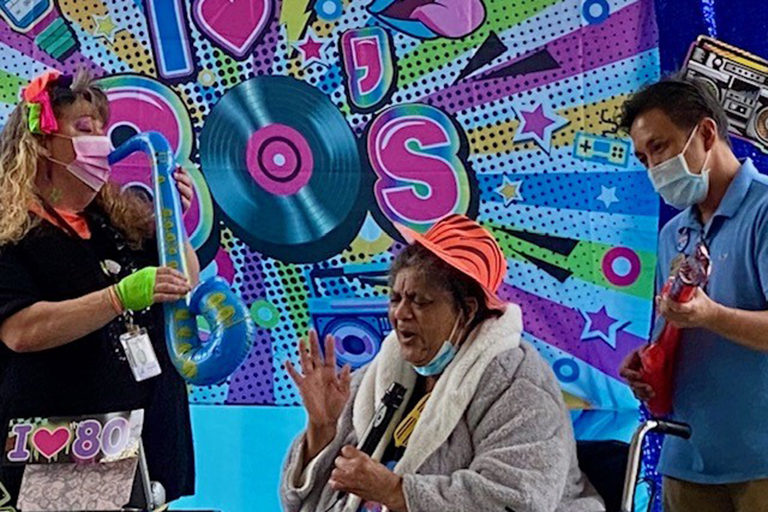 At Life Care Center of Orange Park, Florida, Monday was Hawaiian Day with a hula hoop contest, limbo contest an, hula dancers. On Tuesday, residents and associates celebrated their favorite heroes and enjoyed subs and red, white and blue popsicles. They held a Minute to Win It contest outside and posed in front of a superhero city backdrop for pictures. Wednesday was Wacky Tacky Day, and Thursday was '80s Day with pizza, florescent cupcakes and a talent show. Resident Sylvia McClendon was the winner for singing her heart out on the outdoor stage. Friday closed out the week with '50s Day with live music outdoors and a picnic.
Life Care Center of Centerville, Tennessee, did a lot for Mother's Day on May 9. Each mother received a handmade freshwater pearl ring and corsage, and residents enjoyed refreshments and photos with their families. Western Day was a blast with a country-Western singer and pianist and games. Associates supported their favorite teams as they played sporting games for Sports Day. On Carnival Day, the staff made deep-fried Oreos, as well as funnel cakes and lemonade.
"There were lots of laughs with the carnival games, animal balloons and hats," said Kim Breece, activity director.
Then it was off to the races for Derby Day. Everyone sported their derby hats, and the facility held its own pony race. To close out the week, the facility had some summer fun with a version of beach volleyball and a food truck providing lunch for the staff.
Themes and activities at Life Care Center of Grandview, Missouri, ran the gamut. Monday was Baseball Day with a cookout and a raffle for Royals tickets. Tuesday was Fiesta Day with tacos and a piñata. Wednesday was Sweet Day with ice cream sundaes, candy and a popcorn bar. Thursday was Groovy '70s Day with pizza, a disco dance party and '70s trivia, and Friday was a Hawaiian luau with smoothies and yoga.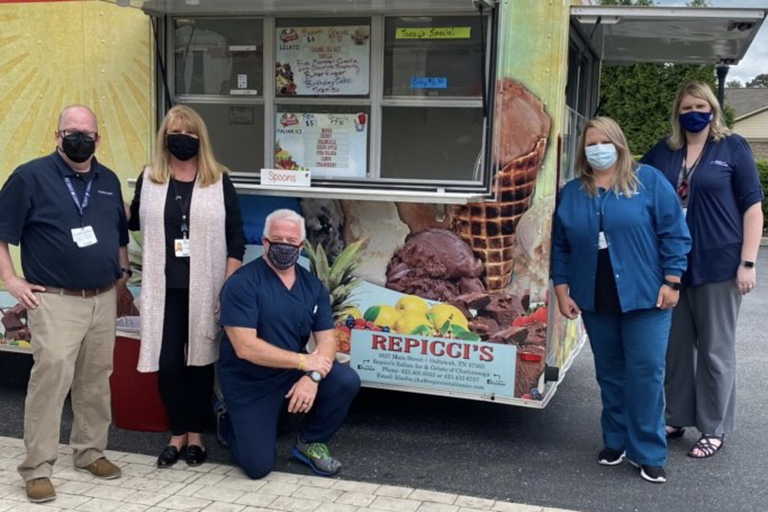 At Life Care Center of Hixson, Tennessee, everyone banded together during the week to thank the staff for working so hard. Hospice of Chattanooga provided the nursing department with Italian ices, and the nursing department also made tacos for the staff. Charla Payne provided Publix subs for the staff to build their own sandwiches. The dietary department held a Hawaiian luau, and the business office and admissions departments provided ice cream sundaes for everyone.
Life Care Center of Bruceton-Hollow Rock in Bruceton, Tennessee, started off the week with church services for Mother's Day. Monday was Hippie Day with flower potting, and Tuesday was Tourist Day with an outside scavenger hunt and a photo booth. Wednesday was All-Star Staff Sports Day with sports trivia and a bowling tournament, while Thursday was Western Day with target shooting and a cookout. On Friday, residents and associates closed out the week with banana splits.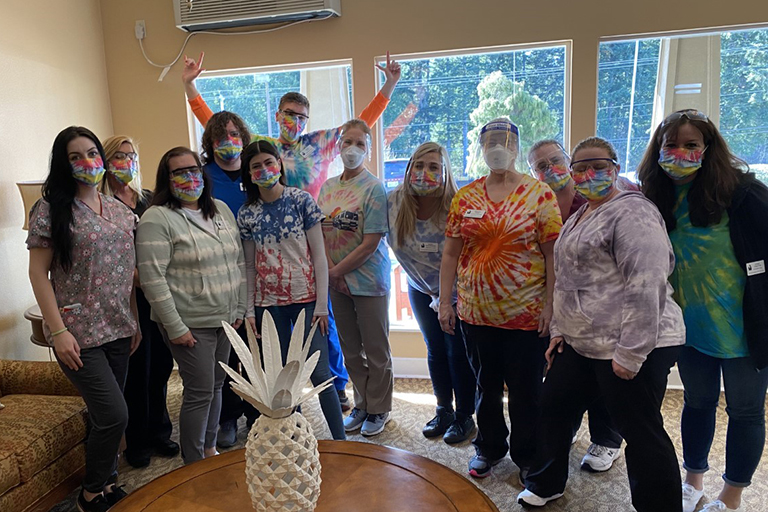 At Life Care Center of Port Orchard, Washington, National Skilled Nursing Care Week including a lot of dressing up for theme days. "Tie-dye and '80s Day were the building favorites," shared Amanda Schlaikowski, admissions assistant. "We had a blast dressing up and giggling with the residents at our crazy outfits." The facility also had a luncheon for the staff, and associates shared why they are thankful to work in skilled nursing.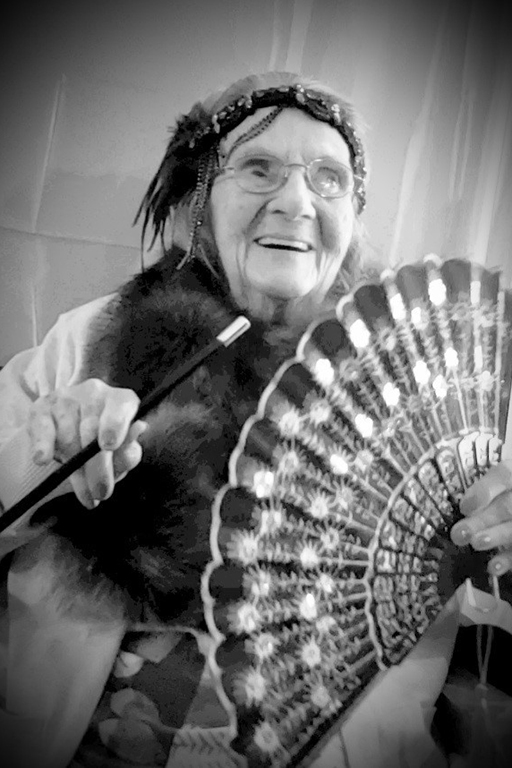 Life Care Center of Rochester, Indiana, kicked off its National Skilled Nursing Care Week with a photo shoot for the lady residents. This was no ordinary photo shoot, however; The photos represent the season or era each resident came from. The photos were sent to residents and their families, "Many families stated they were going to frame the photos in their homes," said Kathrine Thomas, activity director. "This activity was very fun for the residents and staff, and it gave the residents something to share with everyone."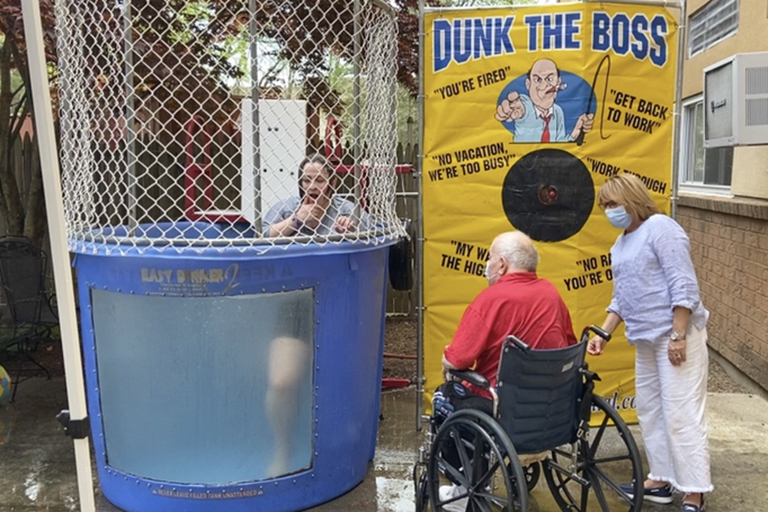 At Evergreen House Health Center in East Providence, Rhode Island, the celebration was a little less… fancy. During the week, staff set up a dunk tank where residents and associates took their best shots to dunk good-natured Nat Cushing, executive director. You can view a video here.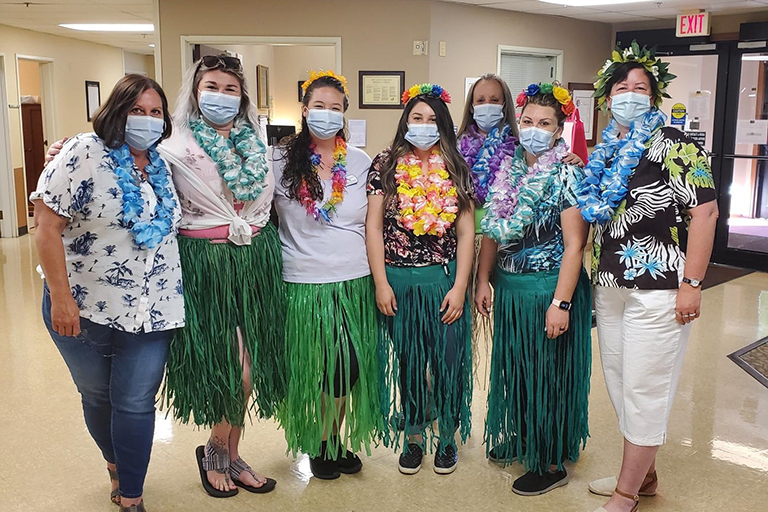 Bridgeview Estates in Twin Falls, Idaho, is particularly proud of its Hawaiian Day and '50s Day events. On Hawaiian Day, everyone wore leis, and there was a hula hoop contest and Hawaiian music, along with sherbet spritzers to drink. On '50s Day, a classic car show rolled in, and residents and associates alike enjoyed viewing the classic cars and eating a barbecue lunch, along with popcorn and snow cones.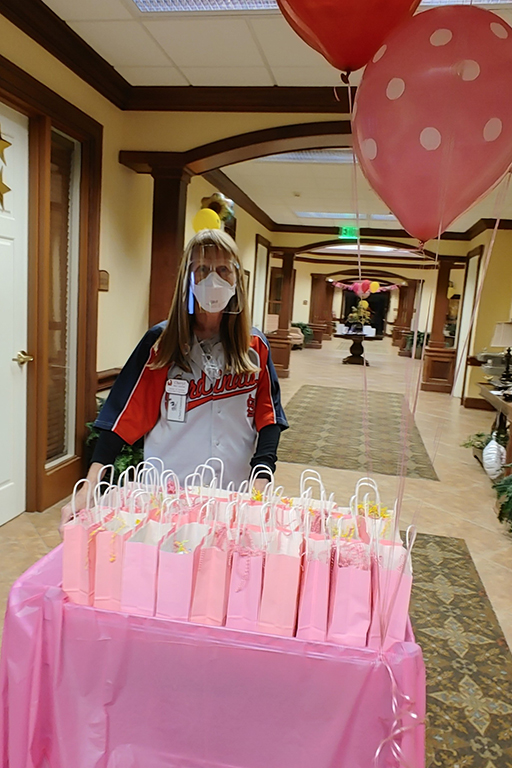 Mother's Day at Life Care Center of Cape Girardeau, Missouri, was a great day of recognition for the residents. Each lady received a goody bag with shampoo, conditioner, lotion, candy, tissues, a pen, a pad of paper, lip balm, sunscreen, gum and mints. The building was decorated with balloons and signage, and residents enjoyed watching a St. Louis Cardinals baseball game.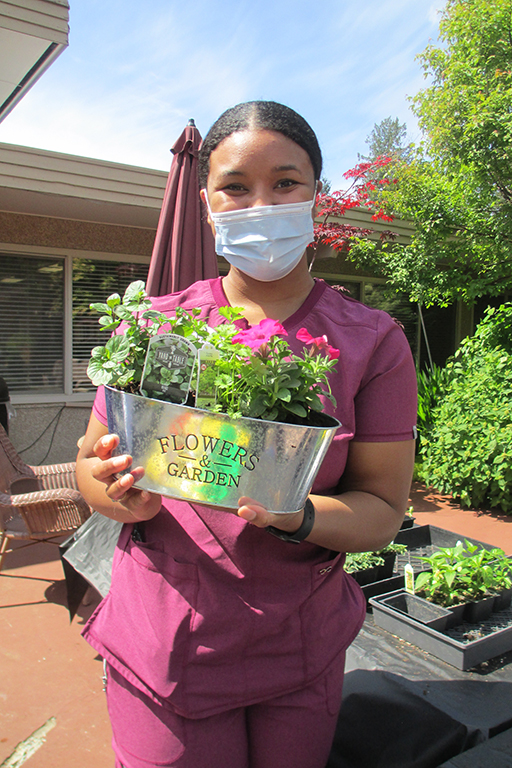 And Life Care Center of Kirkland, Washington, did at least four activities each day. On Sunday, residents made Mother's Day bracelets and received teacups filled with chocolates. The Cheryl Serio Duo played live music outside for another special treat. On Monday, the facility held a birdhouse painting contest, with floral hanging baskets for prizes. Associates wrote positive messages on a paper flower quilt, and associates enjoyed a spring salad and pasta bar lunch with fresh fruit kabobs. Everyone was also invited to plant their own mini flower or herb garden. On Tuesday, folks decorated baseball hats, sports bandanas and sports keychains. Associates brought in a baseball batting cage and held a basketball hoop game. On Wednesday, residents decorated sunglasses and flipflops, and they had a chance to do a sip-and-paint session, which was very popular. There was a carnival that day with prizes, and the Upside Down Ice Cream company gave away nine different flavors of premium ice cream to associates and residents. On Thursday, residents decorated potholders and mugs, and associates held a soup cookoff and a pie-eating contest. There was also a pie bar for tasting featuring seven kinds of pies. On Friday, the craft was making musical wind chimes out of flowerpots, and karaoke was available all day long. The facility held a barbecue on the patio with a DJ, and a country trio, the Haggis Brothers, played live music on the patio. The fun didn't end on Friday, though – on Saturday, residents made inspirational bracelets or dreamcatchers, and the facility held a balloon release with bird balloons decorated with positive messages.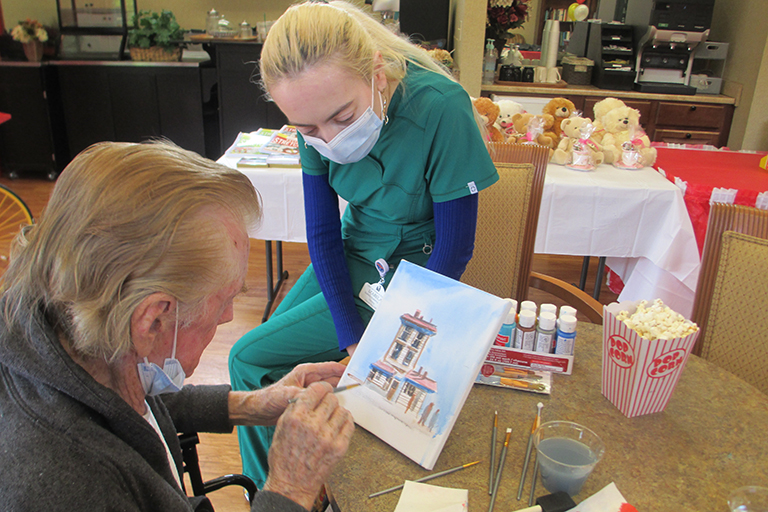 Thank you to everyone who made National Skilled Nursing Care Week such a memorable and festive occasion for our residents and associates!